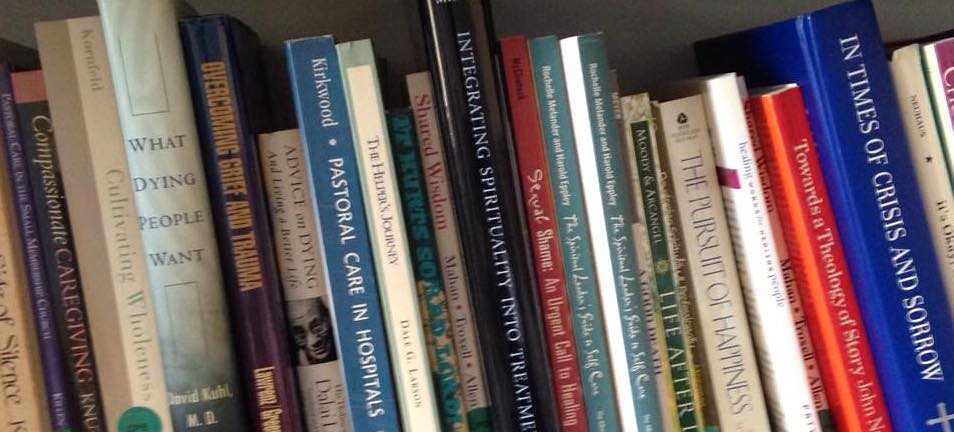 I've been reading some great books this summer and watching some great videos – all part of my chaplaincy training. (None of them are pictured above, but look at those titles!) The material and the discussions are changing the way I experience my encounters with just about everyone, not just patients, and also helping me develop skills to better listen and respond to people's needs – spoken and unspoken. Check it out:
Wit – We watched the HBO movie adaptation of the play, featuring the incomparable Emma Thompson and the amazing Audra McDonald. This movie was a crash course in empathy in a medical setting. Heartbreaking.
Nonviolent Communication by Marshall Rosenberg. Rosenberg's project is to have us rethink the way we use language, thinking, and judgments. The four components of nonviolent communication are observations of what is actually happening, identifying the feelings present in the situation (and what real feelings are), articulating the needs  connected to those feelings, and the actions we can take to address the real needs people have. It sounds simple, but it isn't! Most of us have learned a totally different way to handle communication and conflict, and this book presents a totally new approach.
Extraordinary Leadership, by Roberta Gilbert. This book takes family systems theory and applies it contexts particular to clergy – but really the principles can apply to any organization. It is nearly impossible for me to boil the theory down here, but we've learned a lot about the anxiety that is present in all human interactions, the roles we all learn to play in our families of origin – and how those roles are recreated in other relationships (social, professional, etc.), and how leaders can help the organizations they serve navigate the chaos and emotional intensities that inevitably arise when people live, work, and worship together.
Brené Brown. No particular book, just her entire project! I am a big fan of Brown's work on shame and vulnerability – and wholehearted living. But I always thought about it in terms of my own life – my particular sources of shame and vulnerability, the risks I am willing to take. Now, I am learning to think about these concepts as I meet, listen to, and minister to strangers.
And then there are the amazingly wise chaplains who have taught us from their own experience. Today, our whole group of chaplain interns gathered at the feet of a woman who opened the discussion with a quote from Leonard Cohen:
Ring the bells that still can ring
Forget your perfect offering
There is a crack in everything
That's how the light gets in.
It is true. At a hospital, almost everyone feels broken in one way or another; most people feel extraordinarily vulnerable and imperfect, hopeless and isolated. But there is light in their troubles, in their wounds, in their mortality. There is light in their relationships and anxieties, in the words and silences we share. Once in a while, sitting with people I've only just met, there is a glimpse of these rays of light shining thru the cracks. What seemed like utter brokenness becomes an occasion of grace and blessing. It is those moments that illuminate all the others, the occasions into which light yet to find its way.
Books and discussions help me identify the miracles that can happen when I truly listen, when I am utterly present with another person. But nothing replaces the experience of begin with another when the light gets thru the cracks in their life, when they experience hope in their desolation, when they know love while they are feeling most isolated. If I experienced nothing else this summer, this has been more than enough.