They had journeyed from Rephidim, entered the wilderness of Sinai, and camped in the wilderness; Israel camped there in front of the mountain. Then Moses went up to God; the Lord called to him from the mountain, saying, "Thus you shall say to the house of Jacob, and tell the Israelites: You have seen what I did to the Egyptians, and how I bore you on eagles' wings and brought you to myself. Now therefore, if you obey my voice and keep my covenant, you shall be my treasured possession out of all the peoples. Indeed, the whole earth is mine, but you shall be for me a priestly kingdom and a holy nation. These are the words that you shall speak to the Israelites." So Moses came, summoned the elders of the people, and set before them all these words that the Lord had commanded him. The people all answered as one: "Everything that the Lord has spoken we will do." Moses reported the words of the people to the Lord."You shall be my treasured possession out of all the peoples. Indeed, the whole earth is mine, but you shall be for me a priestly kingdom and a holy nation." Exodus 19:2-8
What does it mean to be God's treasured possession? A priestly kingdom and a holy nation? We can take a few hints from the Exodus story, from our own history – and from current circumstances.
Last week while I was on vacation – no work, no laptop, fun with my pandemic bubble of family – and I couldn't stay away from the news. Reports of the protests around the country, the deepening and broadening conversations about racism and injustice were evident even as I avoided the news on TV and radio. Anger and anxiety seeped into personal conversations.
In the middle of the week, one of my friends posted an exasperated plea on Facebook:
I see a lot of well-meaning calls for love and unity, she said, but they are not helpful. When you call for love or unity right now, you are asking for a shortcut past discomfort. You are asking people to support your comfort instead of staying with them in their pain and through our common struggle.
She had a point. I had also heard some people wishing for comfort at a time when the national conversation is anything but comfortable.
It was the word LOVE that most caught my attention though. My friend wasn't wrong, there are many ways to use that word, but in my faith tradition – Christianity – Love is not a way to avoid discomfort. I believe that Christianity has something to say about the current national uprising against police brutality and racial injustice – and what it has to say is based on our claims about Love, Justice, and God's mission.
The Exodus story – especially the passage above – bears this out. The people God had rescued from slavery were on the move. They camped at the foot of Mt. Sinai, where Moses ascended to receive a message from God to the people. 
This is an in-between time. The people had left slavery, but not yet entered into covenant with God. Their future was cloudy. They knew they needed change, they demanded and worked for change, but the new life had not arrived and there were still many dangers. They were literally and spiritually in the wilderness.
These wilderness people were not yet a community in the fullest sense. They had a common experience, yet no real structures to hold them together. But they'd started! Just before the scene described above, Moses selected elders to hear grievances and resolve disputes. There was a lot of complaining and no real end-goal for their journey.
In the not-so-distant past, we have a similar story of a wilderness community as part of our national heritage. Harriet Tubman was nicknamed Moses for her heroic efforts to free African American slaves in the American South. She was a woman of strong faith. Her sense of the equality of all people and her bravery in leading so many to freedom were grounded in her knowledge and personal experience of the love of God.
That love was not comfortable. Look at this painting by Kadir Nelson that depicts Harriet Tubman on one of her journeys.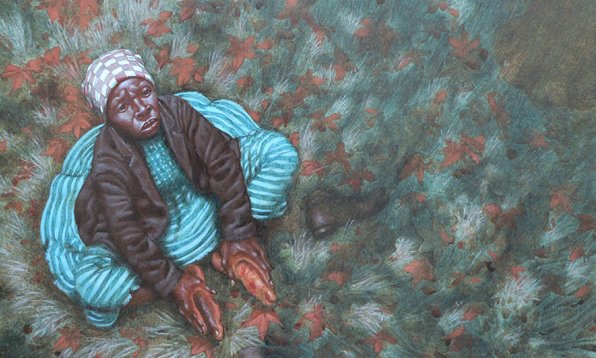 Artwork by Kadir Nelson, from Moses: When Harriet Tubman Led Her People to Freedom, by Carole Boston Weatherford
Her shoes are off and she is rubbing sore, bleeding feet. The work of justice was hard on her body and endangered her life. Like Moses of the Bible, she endured endless complaints from the people she helped about the hardship of their journey to freedom. Like the Israelites who left Egypt, freed slaves did not find post-slavery life to be easy.
Yet that work was a work of love that she understood to come directly from God. The painting depicts her looking upward, her guidance comes from God. She is in a wilderness. A time between oppression and the promised land. When times got hard, she remembered God's presence and God's saving acts – and trusted that God would be faithful to her and all those she led to freedom.
The people at Sinai also needed the reminder of God's presence and saving acts – God tells them through Moses:
You have seen what I did to the Egyptians and how I bore you on eagles' wings and brought you to myself…
This reminder of what God is for us and what God does for us is the foundation of our understanding of Love.
In some languages and traditions, you can express different kinds of love with different words. In English, we have one word for all those kinds of love. You can love your breakfast taco and the weather. You can love your children and your spouse. You can love a poem or a painting. You can love your work and your house .You can even love a cause or a policy or a way of life.
As people of faith, who believe God is love, we need reminding of what that love is. In the language of our faith tradition, in the language of Scripture, Love is Justice. Speaking from the Christian tradition, Dr. Cornell West put it this way- Justice is what love looks like in public.
The story of God's mission- from Genesis through Revelation – bears this out. The Christian tradition tells us that love is not about waiting or comfort at all. In fact, NOT loving is explicitly linked to poverty, all kinds of oppression – and even to exile. Jesus was and is a living reminder of this truth – that God = Love = Justice.
So it is important for us to remember ALWAYS that justice for us is not a social movement – although it can be that as well. Justice is the very mission of God. And we who claim to be Christians are missionaries of God's justice-making through our baptism.
In the Sinai wilderness, the people of Israel are still becoming a community, but they are already chosen by God. God already has a relationship with them. In that wilderness, after rescuing them from harsh oppression, God is inviting them to be God's treasured possession, to be a priestly kingdom and a holy nation.
It is an invitation, not a command. The people choose to take that role. Just as we do in our baptism. And it is important that the invitation at Sinai is not to individuals. They (we) are God's treasured possession together. The priestly kingdom and the holy nation are one unit, a community.
So hear me when I say that the oppression that Moses guided the Israelites from, that Harriet Tubman led slaves from is not the oppression of individual people who suffered. The oppression we are witnessing in our own nation today is not someone else's oppression. 
The oppression of the Israelites, of American slaves, of people in our own city and nation is the oppression of us all. And the work of ending that oppression belongs to all of us. Racism and injustice in any form is an oppression for everyone who claims to be part of the priestly kingdom.
Overcoming injustice is work that happens in the wilderness. It is difficult and uncomfortable. And it is the work of Love, the work of Justice. The public face of Love. We cannot avoid this work and claim to be followers of Jesus – indeed, people who claim to be the Body of Christ.
The invitation God extended to the Israelites at Sinai – to be a priestly kingdom – has been extended to us as well. Being a priestly kingdom and a holy nation has requirements – and one is that we are in it together.
Accept that invitation! You will not be alone.
Based on my sermon preached for St. Mark's Episcopal Church on June 14, 2020